I'm rocking them now because scarves are cool. I am a scarf man! I am so infatuated with scarves that I have created an original song in dedication to the cause. Scarf lovers, please join me in salute:
Doooes--- your scarf hang low,
Does it wobble too and fro?
Can you tie it in a knot,
Can you not tie it in a knot?
Can you toss it over your shoulder
Like a real stylish soldier?
Does your scarf- hang- low?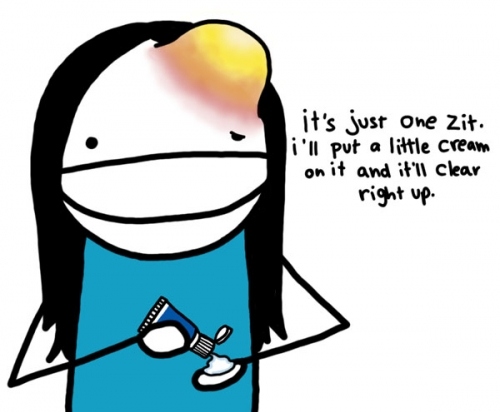 Taken from the Blog: Steph Su Reads
Didn't read the blog, just Googled the pic...
In case you thought I was recommending it.
I just wanted to acknowledge the post!
Stop reading into it! -_-
Sometimes I just ooze originality like a creative pimple. Effective wording is so much fun to use! Especially when I imagine my readers equating originality to popping a ripe pus-filled pimple of "creative juices". Sometimes my sinister side rears it's mean head for no apparent reason, sorry about that. The pimple thing was meant as I joke, I am in no way aiming that at anybody with bad acne and if you found that offensive then shame. Stop getting offended by people that aren't talking about you or your problems. I would hope that you take it as a compliment instead, since I likened your face to a mine-field of creative juice! ...That might have come out wrong too. Apologies.

Nice smells
I prefer to not stink like some of my jokes, but if I'm gonna smell then I hope to at least smell nice and, more importantly, to smell nice things. So I will be attempting to make a cinnamon and vanilla oil perfume thing! I can see the potential for a wonderfully refreshing smelling bathroom but there's no way I'm wasting money on air freshener, so I did a little research and I'm almost prepared. All I need are cinnamon sticks, vanilla seeds or extract, and a method of releasing it in nice smells! How hard could it be? A few methods online seem fairly simple and idiot-proofed so I'll find out what works for me
:D
(P.S. I said "idiot-proof" but I will need to use the stove, so that's not a completely accurate assessment).
Wish me culinary luck, I'll try to not burn the house down.
Scarves rule!
Yours in writing
Binnjamon - That's my name mixed with Cinnamon, not to be confused with my Digimon name: 'SupAmazingBenjamon'